Situations vacant: Just a tartan gigolo by CLAIRE GARDNER
Keeping good company: Scotland has a growing market for professional male escorts, however Rab C Nesbitt types need not apply.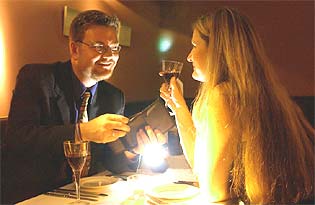 A NEW skills shortage is threatening Scotland: we don't have enough 'gigolos'.
Clean-cut, intelligent men are desperately needed to accompany an emerging breed of 30 and 40-something professional women who cannot find the time to find a man.
Two of the UK's biggest escort agencies are looking for at least 40 charming, socially-adept Scotsmen to act as 'male arm candy' at high-powered functions where turning up with a presentable man is as important as wearing the right outfit.
And while they stress sex is strictly off the menu, male escorts get a free meal and champagne to go with their £45-an-hour pay packet.
Internet escort agencies SIG UK and UK Plus are both looking for around 20 Scotsmen aged 29-49 to provide charming company in the Glasgow and Edinburgh areas.
Most of the firm's clients are power-dressing businesswomen aged between 39 and 49 who require a companion for the evening capable of switching effortlessly between discussing entry requirements for the euro and the relative merits of Nigella Lawson and Delia Smith.
Tony Perry, 45, founder of SIG UK, which has more than 200 men on its books, insists on a three-fold procedure which he claims weeds out the men from the boys.
He said the rewards were high for those that made the grade. "They walk away with a minimum of £135 for a night's work with a free dinner and usually champagne and good wine so it's not a bad way to make a living.
"But we don't take any old rubbish. We ask men to fill out an application form which probes their background and asks why they want to be escorts.
"If under occupation people put jobs such as warehouse assistant then they get binned. It may sound harsh but it's professional women we're dealing with so we need a certain caliber of men," he said.
Applicants are also asked to enclose a photograph, and while they don't have to be Brad Pitt look a likes, they do have to be attractive. "Women have varying tastes, some like the rugged look, but very popular is the clean-cut, clean-living man." If a candidate passes the first test they are then given a grueling telephone interview. The final stage is checking they do not have a criminal record.
"We make it quite clear from the start that sex is simply not an option. We do not offer that sort of service." A Glasgow businesswoman – who asked to be identified only as Margaret, 42 – has used the escort service six times, four for business functions and twice for business-related dinner parties. "The first time I booked an escort I was very cautious about the whole thing," she said. "However, to prevent any embarrassing mishaps, I arranged to meet him the day before for lunch to check he was going to be okay and also to agree a story about how we met," she said.
"The first was a bank manager who was used to mixing at executive level and knew exactly how to conduct himself." Margaret, who is single and said she used the service because she was too busy to find herself a man, said her friends were both horrified and fascinated when they found out. She added: "One of the reasons I use an escort is to project an image of being complete. Many business dinners are male dominated and you can easily feel very uncomfortable being on your own."
Perry set up the company two years ago to provide 'straight' males to escort 'straight' females, with a strict no-sex policy. Perry has three Scotsmen on his books but needs many more. He added that while many clients are businesswomen, they do not make up the whole story. "The other 30% are women who are perhaps divorced who have had bad experiences with men and want to be taken out and treated like a lady for a night." UK Plus has also been swamped by women requesting male escorts in Glasgow, Edinburgh and even Aberdeen for the first time.
So far, they have only one Scotsman to satisfy demand. Jim Campbell, 29 and single, whose day job is at the Royal Bank of Scotland, said although he had only been working in Scotland for three weeks he had been out on eight "dates". "The majority have been high-powered executive parties but I have taken two women out for dinner, and of course they've paid for my food."
"My friends laughed at first and made jokes about me being some sort of male prostitute but it's not like that at all. It's all very proper and professional." Trying to explain the sudden demand for male escorts, Dr Geoff Scobie, senior psychologist at Glasgow University, said: "There has been a rise in female businesswomen in the last few years and it would seem to me that in addition to that the female has taken on a more masculine role in business.
"Women are copying the same value system as men and this includes any resources which are available to men and that means if you need a business partner at a business function then you get one."
interested in becoming a cavendish knights male escort  – click here